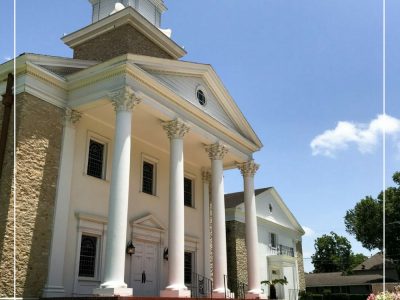 March 5, 2019
Judges 6:8-16
8 he sent them a prophet, who said, "This is what the Lord, the God of Israel, says: I brought you up out of Egypt, out of the land of slavery. 9 I rescued you from the hand of the Egyptians. And I delivered you from the hand of all your oppressors; I drove them out before you and gave you their land. 10 I said to you, 'I am the Lord your God; do not worship the gods of the Amorites, in whose land you live.' But you have not listened to me."
11 The angel of the Lord came and sat down under the oak in Ophrah that belonged to Joash the Abiezrite, where his son Gideon was threshing wheat in a wine press to keep it from the Midianites. 12 When the angel of the Lord appeared to Gideon, he said, "The Lord is with you, mighty warrior."
13 "Pardon me, my lord," Gideon replied, "but if the Lord is with us, why has all this happened to us? Where are all his wonders that our ancestors told us about when they said, 'Did not the Lord bring us up out of Egypt?' But now the Lord has abandoned us and given us into the hand of Midian."
14 The Lord turned to him and said, "Go in the strength you have and save Israel out of Midian's hand. Am I not sending you?"
15 "Pardon me, my lord," Gideon replied, "but how can I save Israel? My clan is the weakest in Manasseh, and I am the least in my family."
16 The Lord answered, "I will be with you, and you will strike down all the Midianites, leaving none alive."
Judges 6:24-28
24 So Gideon built an altar to the Lord there and called it The Lord Is Peace. To this day it stands in Ophrah of the Abiezrites.
25 That same night the Lord said to him, "Take the second bull from your father's herd, the one seven years old.[a] Tear down your father's altar to Baal and cut down the Asherah pole[b] beside it. 26 Then build a proper kind of[c] altar to the Lord your God on the top of this height. Using the wood of the Asherah pole that you cut down, offer the second[d] bull as a burnt offering."
27 So Gideon took ten of his servants and did as the Lord told him. But because he was afraid of his family and the townspeople, he did it at night rather than in the daytime.
28 In the morning when the people of the town got up, there was Baal's altar,demolished, with the Asherah pole beside it cut down and the second bull sacrificed on the newly built altar!
Colossians 3:1-5
3 Since, then, you have been raised with Christ, set your hearts on things above, where Christ is, seated at the right hand of God. 2 Set your minds on things above, not on earthly things. 3 For you died, and your life is now hidden with Christ in God. 4 When Christ, who is your life, appears, then you also will appear with him in glory.
5 Put to death, therefore, whatever belongs to your earthly nature: sexual immorality, impurity, lust, evil desires and greed, which is idolatry.
Judges 6:34-35
34 Then the Spirit of the Lord came on Gideon, and he blew a trumpet,summoning the Abiezrites to follow him. 35 He sent messengers throughout Manasseh, calling them to arms, and also into Asher, Zebulun and Naphtali, so that they too went up to meet them.
2 Corinthians 12:9-10
9 But he said to me, "My grace is sufficient for you, for my power is made perfect in weakness." Therefore I will boast all the more gladly about my weaknesses, so that Christ's power may rest on me. 10 That is why, for Christ's sake, I delight in weaknesses, in insults, in hardships, in persecutions, in difficulties. For when I am weak, then I am strong.
Judges 8:22-27
22 The Israelites said to Gideon, "Rule over us—you, your son and your grandson—because you have saved us from the hand of Midian."
23 But Gideon told them, "I will not rule over you, nor will my son rule over you. The Lord will rule over you." 24 And he said, "I do have one request, that each of you give me an earring from your share of the plunder." (It was the custom of the Ishmaelites to wear gold earrings.)
25 They answered, "We'll be glad to give them." So they spread out a garment, and each of them threw a ring from his plunder onto it. 26 The weight of the gold rings he asked for came to seventeen hundred shekels, not counting the ornaments, the pendants and the purple garments worn by the kings of Midian or the chains that were on their camels' necks. 27 Gideon made the gold into an ephod, which he placed in Ophrah, his town. All Israel prostituted themselves by worshiping it there, and it became a snare to Gideon and his family.
Hebrews 2:14-15
14 Since the children have flesh and blood, he too shared in their humanity so that by his death he might break the power of him who holds the power of death—that is, the devil— 15 and free those who all their lives were held in slavery by their fear of death.
Proverbs 24:16
16 for though the righteous fall seven times, they rise again,
    but the wicked stumble when calamity strikes.
Matthew 6:31-34
31 So do not worry, saying, 'What shall we eat?' or 'What shall we drink?' or 'What shall we wear?' 32 For the pagans run after all these things, and your heavenly Father knows that you need them. 33 But seek first his kingdom and his righteousness, and all these things will be given to you as well. 34 Therefore do not worry about tomorrow, for tomorrow will worry about itself. Each day has enough trouble of its own.
Matthew 23:37-39
37 "Jerusalem, Jerusalem, you who kill the prophets and stone those sent to you,how often I have longed to gather your children together, as a hen gathers her chicks under her wings, and you were not willing. 38 Look, your house is left to you desolate. 39 For I tell you, you will not see me again until you say, 'Blessed is he who comes in the name of the Lord.'"
John 15:16
16 You did not choose me, but I chose you and appointed you so that you might go and bear fruit—fruit that will last—and so that whatever you ask in my name the Father will give you.
John 11:25-26
25 Jesus said to her, "I am the resurrection and the life. The one who believes in me will live, even though they die; 26 and whoever lives by believing in me will never die. Do you believe this?"
John 16:33
33 "I have told you these things, so that in me you may have peace. In this world you will have trouble. But take heart! I have overcome the world."
Deuteronomy 31:8
8 The Lord himself goes before you and will be with you; he will never leave you nor forsake you. Do not be afraid; do not be discouraged."